EcoVadis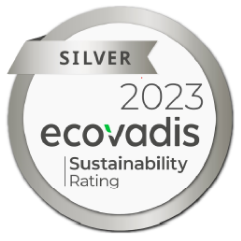 Signs and Lines Limited is proud to have been awarded a silver rating by EcoVadis for our sustainability and corporate social responsibility activities, meaning our customers can be confident of our credentials in these areas.
What is EcoVadis?
EcoVadis is a platform that provides businesses with sustainability ratings and performance improvement tools. It evaluates companies based on a range of sustainability criteria, including environmental impacts, labour practices, human rights, ethics, and sustainable procurement. Companies are assessed on their policies, procedures, and performance related to these criteria, as well as their transparency and reporting on sustainability issues.
EcoVadis is important because it allows companies to evaluate their own sustainability performance and that of their suppliers, helping them identify areas for improvement and potential risks in their supply chains.
EcoVadis has become a widely recognised standard for sustainability ratings, with over 75,000 rated companies and a growing network of stakeholders including customers, investors, and NGOs who use the platform to make informed decisions about their business partners.
What a 'Silver' EcoVadis rating means
To receive a silver rating, a company must score between 45 and 59 out of 100 on EcoVadis' sustainability assessment. This indicates that the company has taken significant steps to address sustainability issues and has implemented policies and practices that align with international standards.
A silver rating is one of four levels of sustainability rating that EcoVadis provides, with bronze being the lowest and platinum being the highest. A silver rating indicates that a company has made notable progress in addressing sustainability issues, but there is still room for improvement.
Going for 'Gold'
Signs and Lines Limited next mission is to achieve a gold rating by implementing suggestions and corrective actions by EcoVadis, further proving our commitment to being a supplier that cares for our planet and our people.